Tactical Waterproof Backpack
THE VERSATILE TACTICAL RUCKSACK FOR YOU.
A real rucksack isn't just for carrying books or a bit of shopping, it can be a tool you rely on for your adventure, something so useful it maximises your capabilities and effectiveness. 
The Military rely on the same 600D Nylon Construction Rucksackseach day, allowing them to perform at their best. It's comfortable, incredibly spacious, durable and fully waterproof.Perfect for trekking, hiking, climbing or as an ultra-convenient day bag you can rely on for years to come.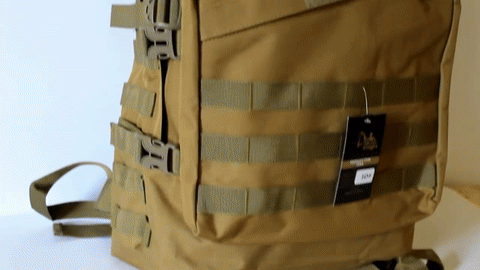 Kingsman Tactical Waterproof Backpack has over 40 discrete tabs, hooks and pockets so it will be able to adapt to your particular use or lifestyle. Deep pocket storage and full waterproofing, they're built to trek, hike and move - but compact enough to wear each day. The Kingsman Backpack boasts an impressive range of design additions;
A Huge Yet Compact 55L Storage Capacity.

Concealed Laptop Compartment

 (up to 15")

Chest and Waist Constriction Straps

 for a 

fully secure fit

 when running, hiking or climbing.

4 Climbing Caribinar Loop

 (TOP TIP: if you don't climb, attach keys, torches, pouches. 

Double Stitched Side Loops

 for attaching 

camping equipment, sleeping bags, tripods, hiking sticks. 

Made from 

600D Military Grade Nylon.

 

Waterproof, Rip-Proof, Scuff Proof

 and 

Ultra Durable.
"I do alot of pretty wild fishing. We hike up to tarns a couple miles into the trek, and camp out overnight. I can get pretty much everything i need into this bag, and hook a load of fishing gear onto the straps. I have NO IDEA how i used to manage without it!"
MAIN POCKET DIMENSIONS:
Main for pocket: 17cm x 37cm x 50cm(L x W x H)
First front for pocket: 29cm x 22cm(L x H)
Second Front for pocket: 29cm x 5cm x 40cm(L x W x H)
1x 3D Outdoor Molle Military Tactical backpack